Best Kvarner places to visit from Rijeka
Wandering what would be the best Kvarner places to visit while you're staying in Rijeka? Here's our Kvarner bucket list! You can explore its beautiful nature, rich history and culture by yourself (we'll point out the best way to reach by car or regular ferry line) or in a safe hands of a certified local tour guide (private speedboat & transfers can also be organised).
Kvarner, also known as the Kvarner Bay or the Kvarner Gulf, has long been loved by travelers attracted to the mild Mediterranean climate and crystal clear Adriatic sea. During the 19th century Austro-Hungarian nobility built holiday homes here, hotels and health resort. You can find out more about this in our article on the beautiful town of Opatija, located less than half an hour drive from Rijeka City Center.
Sheltered by beautiful mountains, the Kvarner Gulf is situated in the northern part of the Adriatic from Mošćenicka Draga in the north to Tribanj in the south. All the best things in Kvarner are easily accessible from Rijeka by car or boat. 
1. Do some Kvarner islands hopping
Krk, the biggest Croatian island, is just a short ride over the bridge. Visit Vrbik, a small medieval town set atop a limestone hill, standing dramatically above the Adriatic sea. The town is well know for its wine festival and Žlahtina, indigenous white wine from Vrbik county. Make sure to add Baška on top of your list and find out why Krk is perceived as the cradle of Croatian culture. On top of that, you'll find the best beaches on the island of Krk – from the popular tourist beaches in bigger towns such as Krk, Malinska and Omišalj, to those hidden beaches that are located in smaller towns such as Stara Baška.
From Krk you can travel to Cres island by regular ferry line. It is also easily reachable from  the mainland. The island of Cres and the island of Lošinj are connected by a bridge that is situated by the town of Osor. Together they number 30 islands in total and cover over 500 square km area, which is 16% of the total surface of all Croatian islands.  Make sure to visit Cres Town, which looks like an Italian village due to previous Venetian rule, and much of its buildings date from the 15th and 16th centuries. Other historic sites to visit on the island are small places of Beli (known for the griffon vulture colony), Valun (famous for the Valun Tablet from the 11th century), Lubenice (once a fort city) and Martinšćica. All these places feature nice secluded beaches nearby. You can find a list of Kvarner beaches here.
If you drive further to the south, you'll reach one of the most popular Croatian islands – Lošinj, famous for its lush green vegetation. Make sure to visit the town of Mali Lošinj (one of the most beautiful harbours in the Adriatic), Čikat bay (known for its beach and windsurfing) and the town of Veli Lošinj. From Rijeka there's a direct ferry line to the islands of Rab (with a lot of tiny, picturesque coves) and Pag (known for its barren, moonlike landscape, lace production and cheese).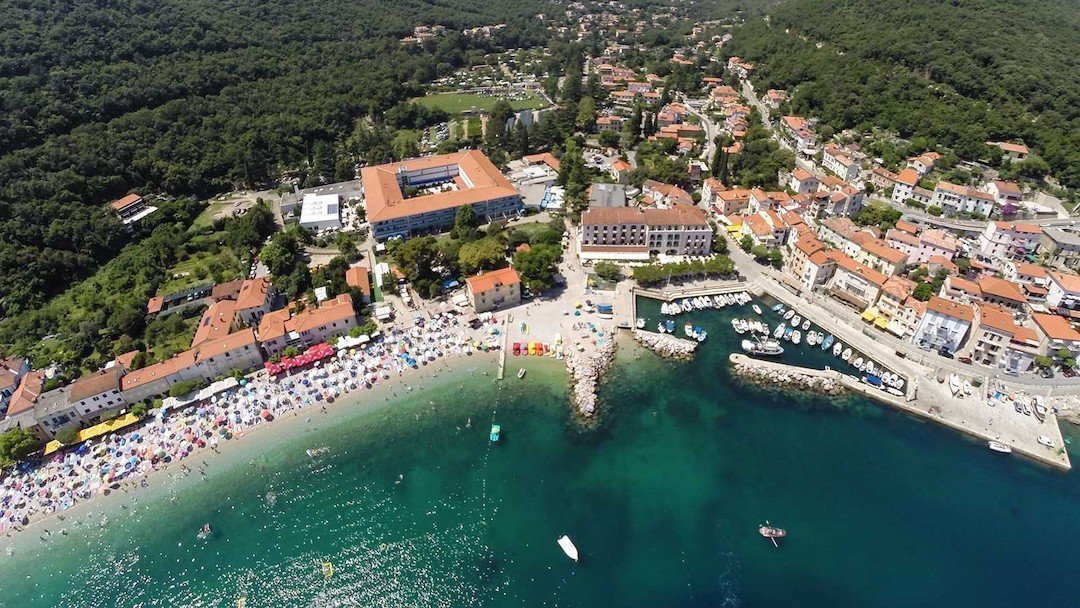 2. Go on a day trip to Kvarner seaside towns & beaches
If you take a 30 minutes ride from Rijeka (20 km), you'll get to a picturesque town of Lovran, surrounded by the tall, thick pine trees. Lovran was one of the earliest settlements in this region, serving as a major shipbuilding center in the early Middle Ages. Today, Lovran is best know for its historic sites from the Austro-Hungarian times, seaside promenade and beautiful beaches. The most famous one is pebble Beach Medveja, surrounded by pine trees, offering different water sports, an aqua-park and a number of cafés, bars, cocktail bar and restaurants as well.
30 km from Rijeka, and only 15km from the town of Opatija, you'll find a small, coastal town of Mošćenićka Draga, known for its beautiful pebble beach, serene surroundings and autochthonous Mediterranean architecture and history. Mošćenicka Draga was formed in the 19th century when inhabitants of Mošćenice, a medieval town situated on a hilltop above, decided to move closer to the sea and develop a new community. Take a long walk down the promenade (Lungomare) and enjoy some time off in one of the cozy restaurants or local cafes.  Make sure to visit the small village of Mošćenica up the hill. It offers the most beautiful view of the Kvarner bay. The best known beach in Moscenicka Draga is the Sipar beach. You can find a lot of information on Mošćenice and its seculded beaches here.
On the other hand, you may choose to travel east from Rijeka towards Kostrena peninsula, which is about 10 kilometers long. Along its length there are many beautiful beaches. The most famous ones are located in Žurkovo Bay, Smokvino, Svežanj, Spužvina, Podražica, Nova voda and Perilo. You can find out more on Kostrena here.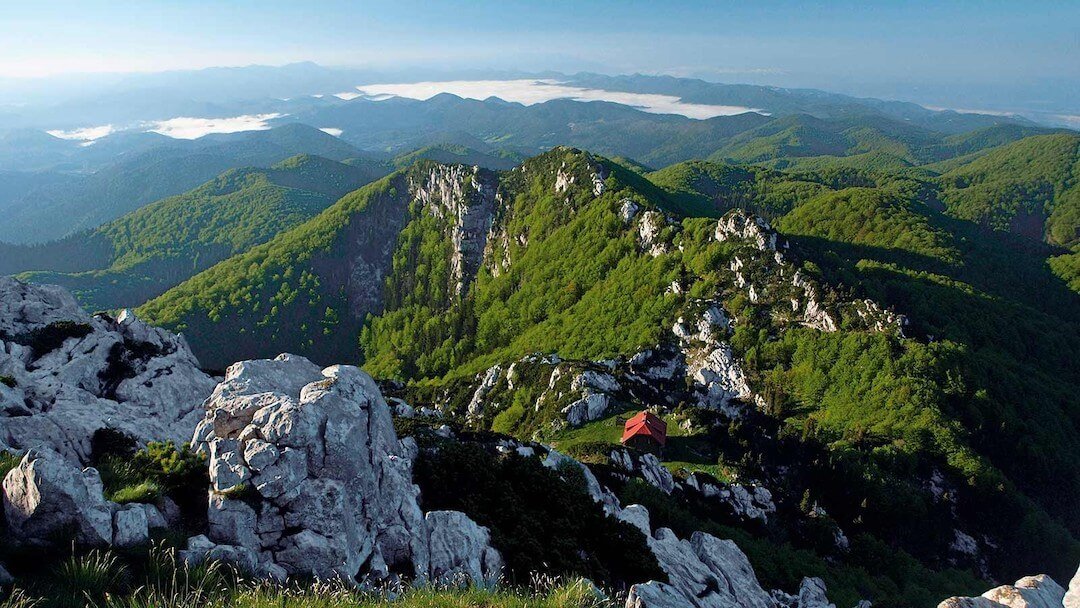 Cradled between the continental Croatia and its coastal regions, Gorski kotar offers beautiful scenery, peace and quiet throughout the year. During the summer months the air is pleasantly fresh and in the winter the area transforms into a snowy idyll. You can find out more on this region here.
If you're an outdoor lover, take a drive (less than an hour) to Risnjak National Park and try out its best known Leska Trail, which takes an intermediate two hours hike to complete or more challenging three hours long Veliki Risnjak trek.  You will be thrilled by old and well-preserved woods, beautiful viewpoints and bright green shades of the river Kupa, bursting with strength of a huge river straight from its spring under Risnjak, and many other phenomena. You can find out more on Risnjak here. 
FRIENDLY WARNING: Due to COVID-19 restrictions which are changing on almost weekly basis and could affect the organization of events and working hours of bars, restaurants and nightclubs. Feel free to contact us if you have any concerns or questions. Also, you can get up to date info on the official Croatian Government dedicated site  and Total Croatia News portal with special section on traveling during pandemia.