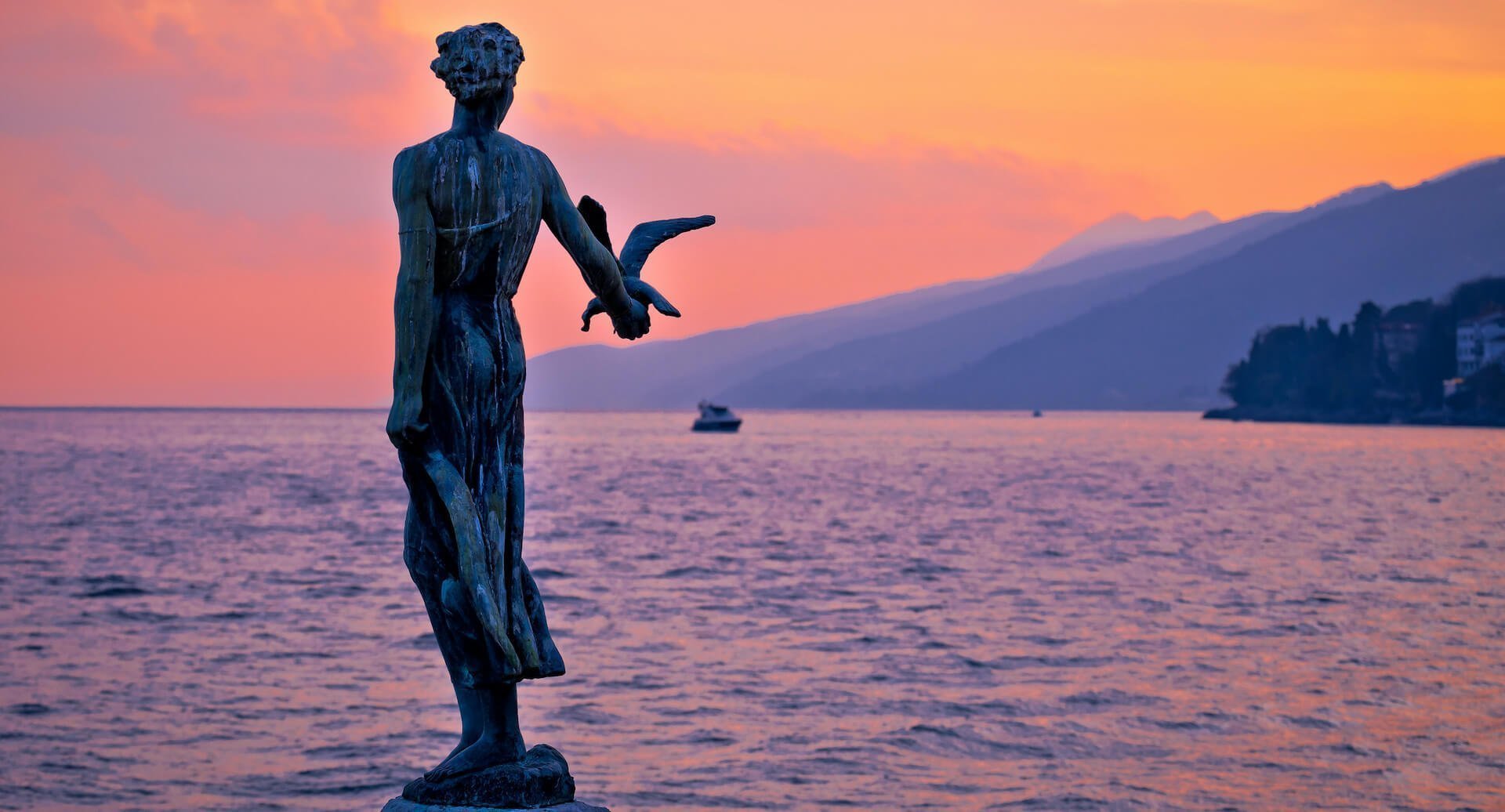 Top 3 reasons to visit picturesque Opatija
If you drive just 20 minutes from Rijeka, you'll get to a dreamy picturesque town of Opatija.  In the 19th century, Opatija was already a famous international jet-set location and wellness and health retreat. Emperor Franz Joseph I, Albert Einstein, James Joyce, Vladimir Nabokov and Isadora Duncan are just some of the big names that visited Opatija.
We'll go through top things you can do on a day trip to Opatija. However, if you feel like you would enjoy having a guide to take you there and give you a local's perspective on the town's past and modern life, make sure to check out private Opatija walking tour, available exclusively to Number 1 Apartments guests.
Reason 1: Opatija Lungomare
Lungomare, officially named the Franz Joseph I Promenade, is Opatija's enchanting 
coastal promenade with most amazing Adriatic sea and 19th-century architecture vistas. It stretches 12 kilometers along the coast of Kvarner Bay from the fishing village of Volovsko to the town of Lovran. It's definitely one of the most romantic walks you can take in Croatia next to the sea.  The Lungomare will take you to some of the most beautiful beaches in Opatija, town landmarks such as the Villa Angiolina and its surrounding park, and the statue of the Girl with the Seagull, the most famous statue in Opatija. Discover secluded pebble beaches, be charmed by quaint coves, or enjoy a drink or meal on a terrace right by the sea. In 2021 Opatija's best-known footpath Lungomare celebrates its 110th anniversary. The Lungomare reveals a series of buildings, locations, monuments and memorial plaques that tell the interesting tale of Opatija's past. You can watch a video of Lungomare, check out image gallery and read more on Opatija's lovely promenade
here
. 
Reason 2: Enjoy the architecture and beautiful parks
Opatija is quite often called Vienna by the sea. There are many songs written about the magical Opatija. Its beauty comes not only from the amazing nature, that we'll write more about soon, but also from its history and architecture. The town center still contains a great number of 19th century buildings, erected when the development of Opatija as elite tourist destination begun. This is the time when the classical "villa Angelina" was built, along with numerous luxurious villas, summer houses, hotels, boarding houses, sanatoriums, pavilions, baths, promenades, and parks. Make sure to visit its mesmerizing three protected parks, Angiolina Park, St. Jacob Park and Margarita Park, monuments of garden architecture.
Reason 3: Improve your wellbeing
Located between the mountains and the Adriatic sea, Opatija is known for its pure air and health beneficial aerosols. Opatija has been declared the first sea and health resort on the Adriatic by the Austrian government. Since 19th century, visitors have been coming here to improve their health by the healing properties of the sea salt, pine trees and a mild climate. So, if you feel like spoiling yourself with a bit of spa treatment, make sure to check out its modern wellness offers.
FRIENDLY WARNING: Due to COVID-19 restrictions which are changing on almost weekly basis and could affect the organization of events and working hours of bars, restaurants and nightclubs. Feel free to contact us if you have any concerns or questions. Also, you can get up to date info on the official Croatian Government dedicated site  and Total Croatia News portal with special section on traveling during pandemia.