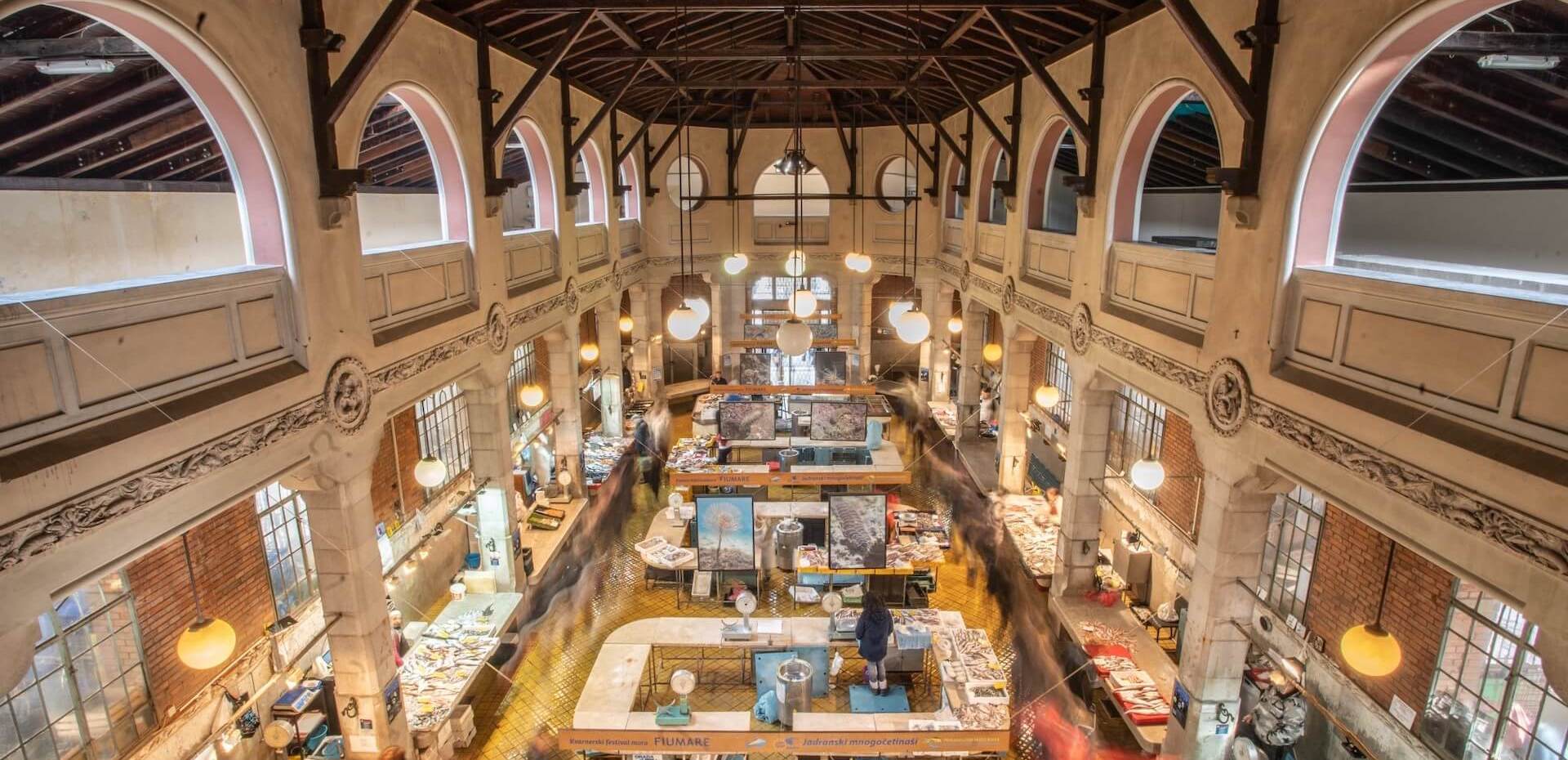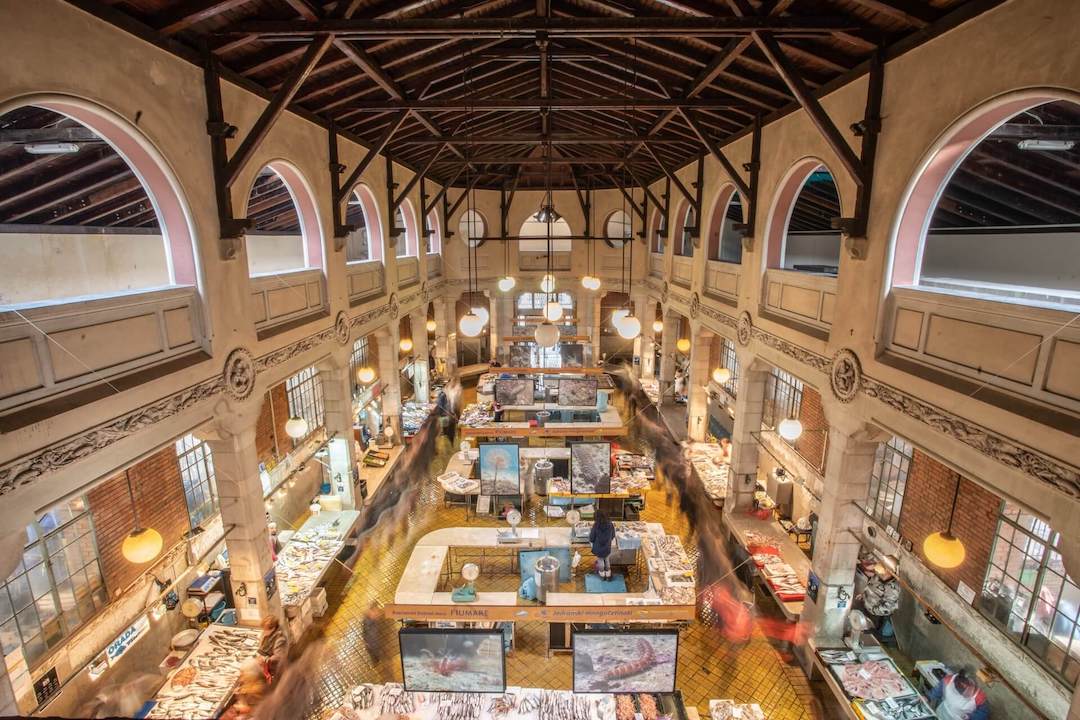 5 reasons to explore Rijeka market
Rijeka market
is without a doubt one of the most popular locations in the city of Rijeka, where the locals do their shopping. You can buy fresh supply of fruit and vegetables, meat and fish, localy produced oils and honey and home grown flowers. The market is split into indoor and outdoor area. Inside you will find a huge selection of meat, fish and sea food. If you're not a big fan of smell of fresh fish, skip this part. Outside is filled with fruit and vegetables and delicious localy produced cheese, olive oil and honey. It's open daily, unlike many Western weekend-only fresh markets. Working hours: Monday to Saturday from 7 am to 2 pm (fish market closes at 1 pm), Sunday from 7 am to 12 pm. Make sure to have cash with you since not all stalls take cards.
Reason 1: Meet the locals
The local market traders are extremely friendly and talkative. If you ask them about their products or Rijeka, they will be happy to give you plenty of information, colored with their personal experience and family history. Even though the language barrier can be there, due to fact that many of them are older and haven't learned English at school, they are willing to sell you anything you want at much cheaper prices than you'll find on markets in western Europe. Most of them speak Italian, many of them German. Even if you're not here for tasty bites, you can simply have a cup of coffee and listen to them arguing who's fish is freshest and who's bees make the best honey. It's an experience you won't get anywhere else in Rijeka.
Reason 2: Get the best local products
If you wake up early enough and go directly to Rijeka market you might get ahead of professional cooks and restaurant owners and find freshly caught fish and seafood, the signature sign of Rijeka market. Right next to the fish hall stand two smaller pavilions, where you can buy meat and diary.  However, even if you don't feel like cooking on your vacation, there is something for you to find on the market.  The stalls in front of the pavillons offer delicious season vegetables and fruit to eat as you go, berries or asparagus picked up in surrounding forest, honey and local products that could be perfect souvenirs to bring home with you. 
Reason 3: Admire the history
It's been a bit over 300 years since the proclamation of Rijeka as a free royal port. The history of the market begins approximately at the same time. The place where Rijeka market stands today is the same place where fisherman used to sell their catch on open air. As the port and city developed, so did the need for vendors to get their place under the roof. At the end of the 19th century Isidor Wauchnig envisages the construction of a pavilion as we know it today. According to Izidor Vauching's project, besides the fish-market, the construction of two pavilions for the sale of other ingredients began in 1880. Over time, the city decided to build a new fish-market, and the architect Carlo Pergoli completed its construction in 1916. The stone decoration by the sculptor Urban Bottasso indicates the tendency towards Vienna's Art Nouveau. Around the pillars and on the fish-market's façade he put the life of sea creatures. You can find out more about market's history on Rijeka Tourist Board website. Interestingly, the market, in over 120 years of operation, was closed only during the renovations between 1971 and 1974. and for short time during 2020 Covid-19 lockdown.
Reason 4: Explore the area
Together with the nearby National Theatre, the Modello Palace and numerous buildings, the market forms an urban architectural complex. The part of Rijeka surrounding Rijeka market was created in 19th century by embankment as an elite district intended for the modern development of maritime affairs, the port of Rijeka and service and vital activities of the city. If you don't feel like walking around the area, make sure to at least check out the famous Casa Turca or Turkish house, built in 1879, located right next to Rijeka market. You can find out more on it's amazing history on Rijeka heritage website.
The pleasant streets of the market area are lined with fast food takeaways. The area is also surrounded with great little restaurants and coffee's, that you can read about more on our blog on top Rijeka restaurants.
FRIENDLY WARNING: Due to COVID-19 restrictions which are changing on almost weekly basis and could affect the organization of events and working hours of bars, restaurants and nightclubs. Feel free to contact us if you have any concerns or questions. Also, you can get up to date info on the official Croatian Government dedicated site  and Total Croatia News portal with special section on traveling during pandemia.