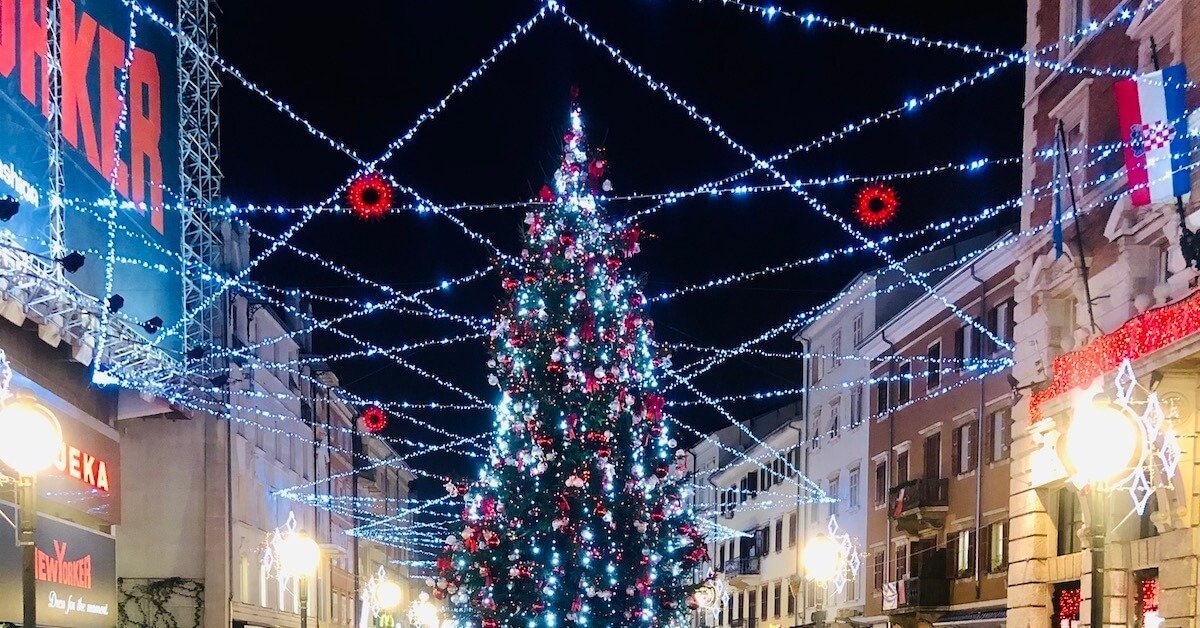 Shiny and bright advent in Rijeka
When Advent in Rijeka comes around, everything suddenly becomes shiny and bright. Christmas and New Year holidays are especially cheerful on Rijeka's Korzo. On an ordinary year various cultural and entertainment programmes are held on Rijeka's main street during November, December and the first half of January, with colourful stalls. There's even a special part of Visit Rijeka website dedicated to Advent in Rijeka.
Due to restrictions connected to Covid-19 pandemic, all events are cancelled and the stalls remain empty. However, you can still have a drink to go and have a nice stroll down Rijeka's main street decorated in Christmas lights. Nearly 500,000 lights illuminate almost every corner of the city. Seasonal music plays all along Korzo and Ivan Kobler Square is adorned with the traditional Advent wreath.
Trsat Castle on the 138 meters high Trsat hill is always on top of our "Must see in Rijeka" list. Rijeka Christmas isn't truly festive if Trsat Castle doesn't get a cape made of thousands of Christmas lights. This year the cape has even more lights than the previous years and unique Christmas decorations are placed outside and inside the centuries-old Trsat lady. The magnificent Votive Crown, the largest in Europe, overlooks the entire city.
Discover advent in Opatija
A beautiful coastal town of Opatija is less than half an hour drive from Rijeka City Center. Stroll through the beautifully decorated town and enjoy a fascinating Advent by the sea. You can explore its rich history and culture by yourself or in a safe hands of a certified local tour guide.
FRIENDLY WARNING: Due to COVID-19 restrictions which are changing on almost weekly basis and could affect the organization of events and working hours of bars, restaurants and nightclubs. Feel free to contact us if you have any concerns or questions. Also, you can get up to date info on the official Croatian Government dedicated site  and Total Croatia News portal with special section on traveling during pandemia.