Top 5 things to do in Rijeka & its area
Wandering what to do in Rijeka? It's hard to bring the choice down to 5 best things to do while staying in the city, but we'll do our best. Unlike many other Croatian cities on the Adriatic coastline, such as Dubrovnik or Split, which are famous destinations where people travel for leisure, Rijeka is seen as one of the best cities to live in Croatia. With a population of over 150,000, Rijeka is country's third largest city. It's a place where people live life to the full 365 days of the year. In short, you'll be eating, dancing and sunbathing with locals. Along with the liveliest carnival and unparalleled rock scene in Croatia, Rijeka offers fascinating history to explore, great restaurants to eat in, top-notch art museums and year-round nightlife. No wonder it was chosen to be the European Capital of Culture 2020 (ECC).
1. Stroll down the main street & explore the best of Rijeka
Staying in one of our Rijeka central apartments, you're just a short stroll from the main street Korzo. Always bustling with life, this broad and long pedestrian street is the first port of call after the arrival to Rijeka. If you're tired or hungry, just park yourself at the nearest table and watch the city go by. If you're wondering where to eat best in Rijeka, check out our blog on top 5 places to eat in the city center. Once you recharged your batteries, take a walk down the long and broad Rijeka's promenade enjoying grand neoclassical design of the buildings along the street. If you've been to other coastal cities such as Zadar, Split or Dubrovnik, you'll notice that the architecture of Rijeka is quite different.
Here you'll find the symbol of Rijeka – City Clock Tower watching over the promenade and beautiful fountains, Radio Rijeka building and all the main museums close at hand. Make sure to take a peek at the side streets, full of tiny shops, galleries and bars. For the best shopping spots, check out or blog here. As the day turns to night, you'll see Korzo changing from Rijeka's top gastro and shopping spot to the beating hearth of the city's night life. If you would like to explore Korzo & Rijeka with a local tour guide, check out our guided walking tours.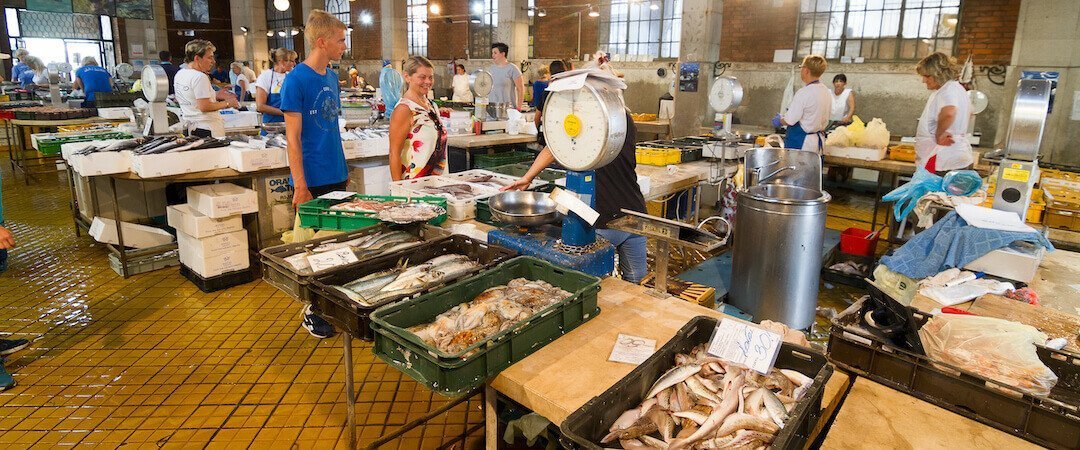 2. Head to Rijeka's harbor & buy fresh fish at the main market
If you wake up early enough and go directly to Rijeka's main market you might get ahead of professional cooks and restaurant owners and find freshly caught fish and seafood. Even if you don't feel like cooking on your vacation, Rijeka's fish market is something you shouldn't miss. The building itself is beautiful. Built in 1916 just next to the sea, it's a gorgeous piece of metal and glass art-nouveau architecture with neoclassical grand entrance. Moreover, right next to the fish hall stand two smaller pavilions, where you can buy meat and diary. In front of them are stalls with fruit, vegetables and street food.
Don't miss out the opportunity to take a slow stroll along Rijeka's longest pier called "Molo Longo", overlooking the city's waterfront, with the amazing scenery of Rijeka's most impressive buildings, big and small boats in the harbor and fishing nets laid out to dry. There's been a harbor here for centuries. In 1866 in Rijeka the torpedo was created, a weapon which changed the earlier concept of sea warfare. You might want to consider renting an electric scooter to make the exploration of the harbor easier.
3. Walk up to Trsat castle & admire the view
Rijeka means "river" in Croatian and the city's unofficial motto is "The City That Flows". The river Rječina (which means "big river") flows through the city centre and into the sea. It used to be a political border between Italian side (Fiume) and Croatian side (Sušak) until 1947 when it was united under Tito's Yugoslavia.
The grandiose Trsat staircase starts at Tito's Square next to the Rjecina and near the former border between Italy and Yugoslavia. About 600 steps might sound a bit too much, but believe us when we say you won't regret climbing them to reach 13th century Trsat Castle, built on the site of an old Roman fortress. The steep Trsat staircase was originally made for pilgrims attracted by the Church of Our Lady of Trsat, famous for its icon of Mary, believed to have been painted by St. Luke.
As you ascend, the views of Rijeka become more and more stunning, until you reach the top of the hill and the entire Kvarner Bay lays out before you. If you don't feel like walking, you can also come very close to the fortress by car and public transportation. Find out more about Trsat here. 
4. Discover Rijeka's art & culture
When it comes to creativity in art and culture, it's hard to know where to start in Rijeka. So, why not start in one of many Rijeka's museums. For something different, check out Peek & Poke Computer Museum with a massive collection of games consoles and computers going back to the 1960s. Some displays are behind the glass, but on some of them you are free to play vintage games.
The real gem for all of the modern art lovers is Rijeka's Museum of Modern & Contemporary Art, with more than 8000 works, created from the end of the 19th to the beginning of the 21st century, along with works of temporary artists. They also host lectures, workshops, film projections, concerts and talks.
if you're interested in exploring Rijeka's connection with the sea, along with its ethnography, culture and history, make sure to visit Maritime and History Museum of the Croatian Littoral. If you're not interested in the displays, make sure to check out this beautiful white neoclassical palace from the late-19th century from the outside. For other architectural pearls of Rijeka make sure to check out Rijeka Tourist Board website. One of those iconic buildings is Cathedral of St. Vitus, in the same street as our apartments Alexandrite, Larimar and Obsidian.
Are you a fan of the work of Gustav Klimt and brother Ernst? Then you should definitely visit the elegant Croatian National Theatre in Rijeka's city centre. They worked on the ceiling before its grand opening. Today you can watch ballet, concerts, opera and drama in this beautiful multi-use venue.
If by any chance you get to be in Rijeka during February, don't miss the International Carnival Parade, Croatia's biggest carnival, culminating in a colourful procession of thousands masked grown ups and kids on Korzo. The word goes that Rijeka's carnival is the third biggest carnival in the world after the ones in Venice and Rio. 
5. Explore Rijeka's surroundings
One of the best parts of staying in Rijeka is that it is so well connected and close to some of the most amazing parts of Croatia. A small town of Kastav is just a 15 minutes drive northeast of Rijeka. This Middle Ages town is famous for its old castle that housed nobility during the 16th and 17th centuries and charming Lokvine Square, containing many architectural treasures. On the other hand a beautiful coastal town of Opatija is less than half an hour drive from Rijeka City Center.  You can explore its rich history and culture by yourself or in a safe hands of a certified local tour guide.
Krk, the biggest Croatian island, is just a short ride over the bridge.  Visit Vrbik, a small medieval town set atop a limestone hill, standing dramatically above the Adriatic sea. The town is well know for its wine festival and Žlahtina,
indigenous white wine from Vrbik county. Make sure to add Baška on top of your list and find out why Krk is perceived as the cradle of Croatian culture. On top of that, you'll find the best beaches on the island of Krk – from the popular tourist beaches in bigger towns such as Krk, Malinska and Omišalj, to those hidden beaches that are located in smaller towns such as Stara Baška.
If you're an outdoor lover, take a drive (less than an hour) to Risnjak National Park and try out its best known Leska Trail, which takes an intermediate two hours hike to complete or more challenging three hours long Veliki Risnjak trek. Two and half hours drive from Rijeka stand Plitvice Lakes, a UNESCO World Heritage Site and the largest national park in Croatia. With easy walking trails, stunning waterfalls, turquoise lakes and most amazing woods, Plitvice National Park is perfect for visitors of all ages.
FRIENDLY WARNING: Due to COVID-19 restrictions which are changing on almost weekly basis and could affect the organization of events and working hours of bars, restaurants and nightclubs. Feel free to contact us if you have any concerns or questions. Also, you can get up to date info on the official Croatian Government dedicated site  and Total Croatia News portal with special section on traveling during pandemia.