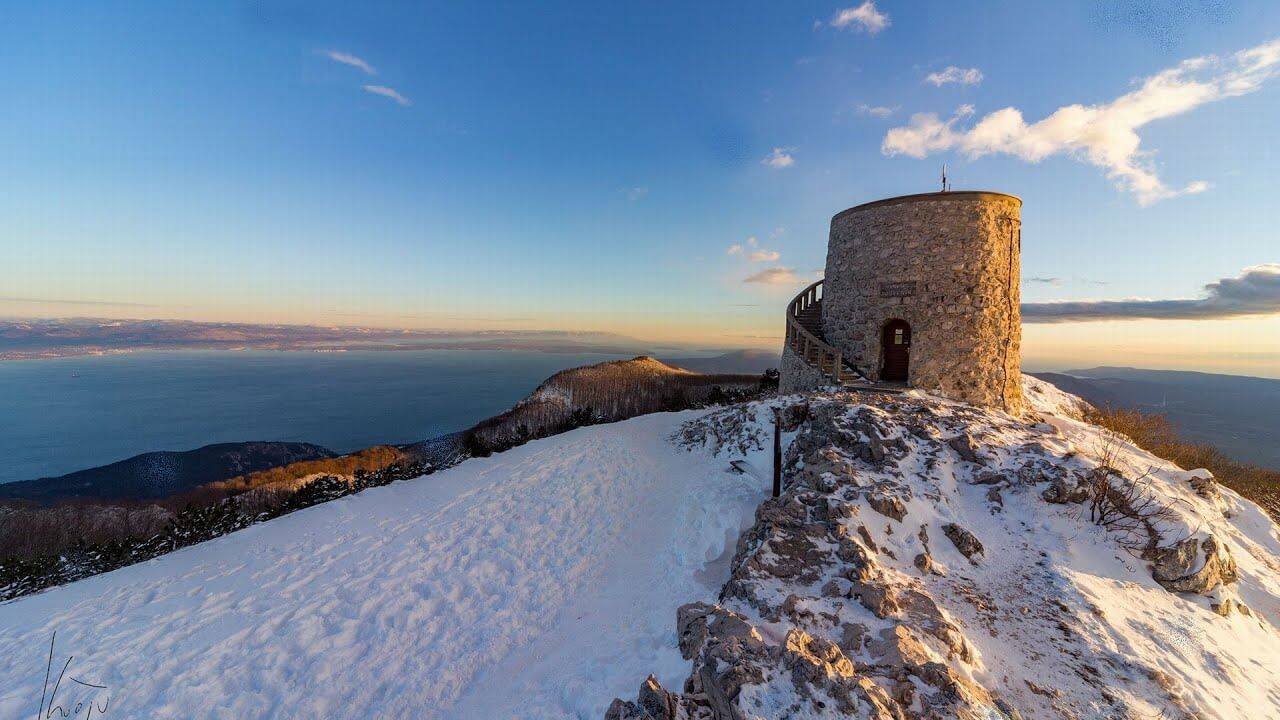 Nature park Učka – top choice for the fans of the outdoors
The Istrian peninsula is separated from the rest of the country by Mount Učka. When you pass the tunnel and enter Istria, it's like you have arrived in another world.
The beauty of Mount Učka attracts thousands of day-trippers and visitors from Rijeka, only 1 hour drive from the bustle and crowds of the city. It's a popular spot for alpinists, hikers and nature lovers during all seasons of the year. 
Here we bring you top 3 reasons to visit Učka! If you're wondering how to get to Učka, you can find detailed explanation on Nature park Učka website. 
Tip 1: Go hiking & explore spectacular views from the tops
Učka is located at one of the most northern points of the Mediterranean, above the western cove of the Kvarner Gulf, and it was declared a nature park 20 years ago, along with a part of the mountainous plateau Ćićarija.
The entire Učka is interwoven with a network of mountain trails. The main excursion destination on Učka is the saddle Poklon, which can be reached from all coastal town, including Opatija. It takes some 2-3 hours of walk to get to Poklon from the Istrian coast, from which the sea and the town of Rijeka can be spotted for the first time and this is why it has long been a popular stop for travellers. When the pilgrims from Istria would first sight Trsat from that location, they would commonly bow to Our Lady of Trsat. A memory of this custom remained in the name of Poklon (a bow). You can find out more interesting facts on hiking on Učka on the Croatia Tourist website. 
Detailed description of hiking trails can be found on in the Outdoor guide to Učka Nature Park.
Tip 2: Try out free climbing on one of 62 routes
Mount Učka's rocks, full of various obstacles, are demanding both for top athletes and beginners. Apart from the beautiful intact nature more and more prized by free climbers, the rocks mostly face the south, enabling climbers to wear short sleeves even in colder weather.
Free climbers visit Učka during spring and summer for Vela draga canyon – a geomorphological monument of nature with 62 climbing routes on the north-western slopes of Učka. This natural phenomenon, began to be formed by natural forces – earthquakes, winds, sunshine and water – during the Cretaceous Period (over 140 million years ago).
If you're interested in trying out free climbing or you're already an expert climber, you can find more information here. 
Tip 3: Explore natural & cultural heritage of Mount Učka
The area encompassed by Učka Nature Park is simply breathtaking. You may enjoy the songs of 114 nesting birds and many other birds that occasionally visit this mountain. You may also take a photo of the endemic Učka or Tommasini bell-flower (Campanula tommasiniana). According to the existing literature, the flora of Učka Nature Park encompasses approximately 1300 different species, which is an extraordinarily large number, considering the relatively small size of the protected area.
The mountain of Učka has been a site of continuous human dwelling and activity for the last 13,000 years. During this period, people have not only left a rich cultural heritage, but have also significantly influenced the area's natural environment. Find out more on the natural and cultural heritage of Učka here.
FRIENDLY WARNING: Due to COVID-19 restrictions which are changing on almost weekly basis and could affect the organization of events and working hours of bars, restaurants and nightclubs. Feel free to contact us if you have any concerns or questions. Also, you can get up to date info on the official Croatian Government dedicated site  and Total Croatia News portal with special section on traveling during pandemia.