There is an abundance of beautiful beaches around the city of Rijeka, so drilling our choice down to only five was not an easy task. One one hand we bring you well known and well organised beaches with lots of options, including renting sunbeds, doing some water sports or having something to eat in the nearby restaurants. On the other hand we picked a few secluded and intimate natural beaches that are harder to reach and have less or even no facilities, but are usually overseen by tourists.
1. Pebble beaches in Mošćenička Draga
30 kilometres from Rijeka and 15 kilometres from Opatija you'll find one of the most beautiful pebble beaches in Croatia known as Sipar, at the base of Učka and on its slopes in a small place called Mošćenička Draga. The beach of Mošćenička Draga was gradually formed from the sand coming from the brook of Mošćenička Draga and its pebbles were shaped by sea waves.
Mošćenička Draga is picturesque small fishing village known for great food, amazing beach and clear blue see. If you decide to turn your visit to the beach into a day trip, you can hop on a private boat and explore the wild side of the Island Cres and the nearby islands of Krk and Rab. Also, if you're coming during the high summer season and find Sipar beach too crowded for you, make sure to check out other smaller hidden beaches of Mošćenička Draga.
The beach stretches on towards St. Ivan, and its particularly beautiful part is the one hidden among the cliffs, below Villa Zagreb. Naturists will find their place under the sun on the beach of Senjavac, which is situated after Sv. Ivan Beach (St. John' Beach). You can find more info on Mošćenička Draga Tourist Board website.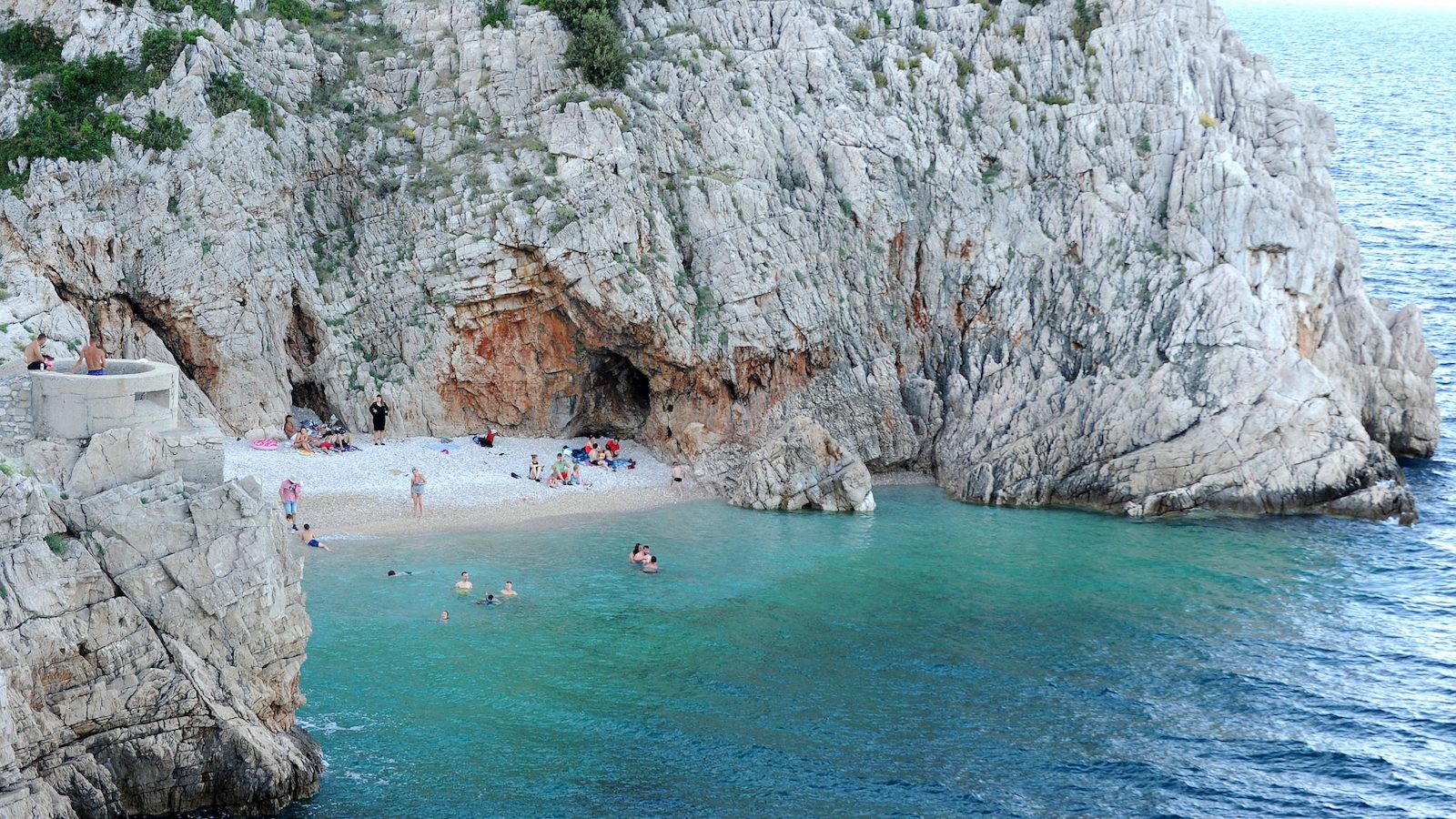 2. The hidden beach of Brseč
You don't like crowds? You don't need a beach bar or parasol? You're fine with bringing your own food and drinks to enjoy the natural beauty of a secluded beach? Well this is your beach then.
Klančac beach is reachable from the small place of Brseč, 40 kilometres from Rijeka and 23 kilometres from Opatija. Namely, to get to this beach is not the easiest endeavour, but still does not require descending the rocks or similar inaccessible terrain. The road for cars leads to the beach, but it is very narrow, so there are often crowds and a problem with parking, which is not available. That is why we suggest that you park your car at the top of the mentioned road in a large parking lot and go down on foot. So it will take you about 20 minutes to get to the beach, but once you get there, all the hiking will be worth the effort.
Klančac beach is made of pebbles and offers crystal clear sea, as well as an unforgettable view that will surely remain in your memory for a long time.
3. Family friendly Medveja Beach
Here's another jewel of Kvarner – Beach Medveja, a small, scenic inlet with a beautiful natural pebbly beach; boat dock, including restaurants, cocktail bars & hotels, 23 kilometres from Rijeka and 10 kilometres from Opatija.
There is enough space so that everyone can find their own perfect place for a rest and enough facilities so that every day is full. Alongside the beach bar and restaurants there is a separate water park for amateur sports players. The beach offers various sports and recreational facilities, such as renting kayak and canoe, towable tubes and bananas, water scooters, water skiing and jet-ski. It's also a great place to spend a day with children. They'll love the large blowup slide in the sea.
Ičići is most famous for its attractive beach and one of the best marinas in the Adriatic. For more than a decade, Ičići beach has been awarded the Blue Flag, an international symbol of high-quality service and cleanliness, and has been listed as one of the five best-maintained beaches in Croatia. Visitors can spend an action-packed holiday doing a variety of sports activities such as speedminton, sand volleyball, beach aerobics, tennis, paintball and football at the nearby campsite. For hiking enthusiasts, there are numerous marked trails leading up to Mount Učka that start in Ičići and end at the top of the highest mountain in Kvarner. You can find out more on Tourist Board Ičići website.
5. Sablićevo Rijeka City Beach
If you don't feel like driving outside Rijeka to have a swim, natural pebble beach Sablićevo will be your best choice. It's one of the oldest beaches in Rijeka, only a few minutes away from the city center to the east. The facilities include a shower, changing cabins and a toilet.
FRIENDLY WARNING: Due to COVID-19 restrictions which are changing on almost weekly basis and could affect the organization of events and working hours of bars, restaurants and nightclubs. Feel free to contact us if you have any concerns or questions. Also, you can get up to date info on the official Croatian Government dedicated site  and Total Croatia News portal with special section on traveling during pandemia.